When arriving at Mġarr Harbour in Gozo, follow the signs to Victoria (or take Bus 301). At Victoria, known to locals by its medieval name of Ir-Rabat, proceed up the main street (triq in Maltese) triq ir-repubblika, to pjazza indipendenza / it-tokk, the town's main square lined with ficus nitida  trees. it-telgha tal-belt, the road up to Iċ-Ċittadella, runs from its northwest corner. If driving, continue to the next square, pjazza savina. Take the first road on the right and then turn first right again, into triq il-ħaġġarija / il-kastell, up to a hair-pin bend beneath the fortifications and the Cathedral Parking lot. The pedestrian may climb a flight of steps up the pjazza tal-katidral, the Cathedral Square, use the public lift, or walk up the ramp close to the parking lot.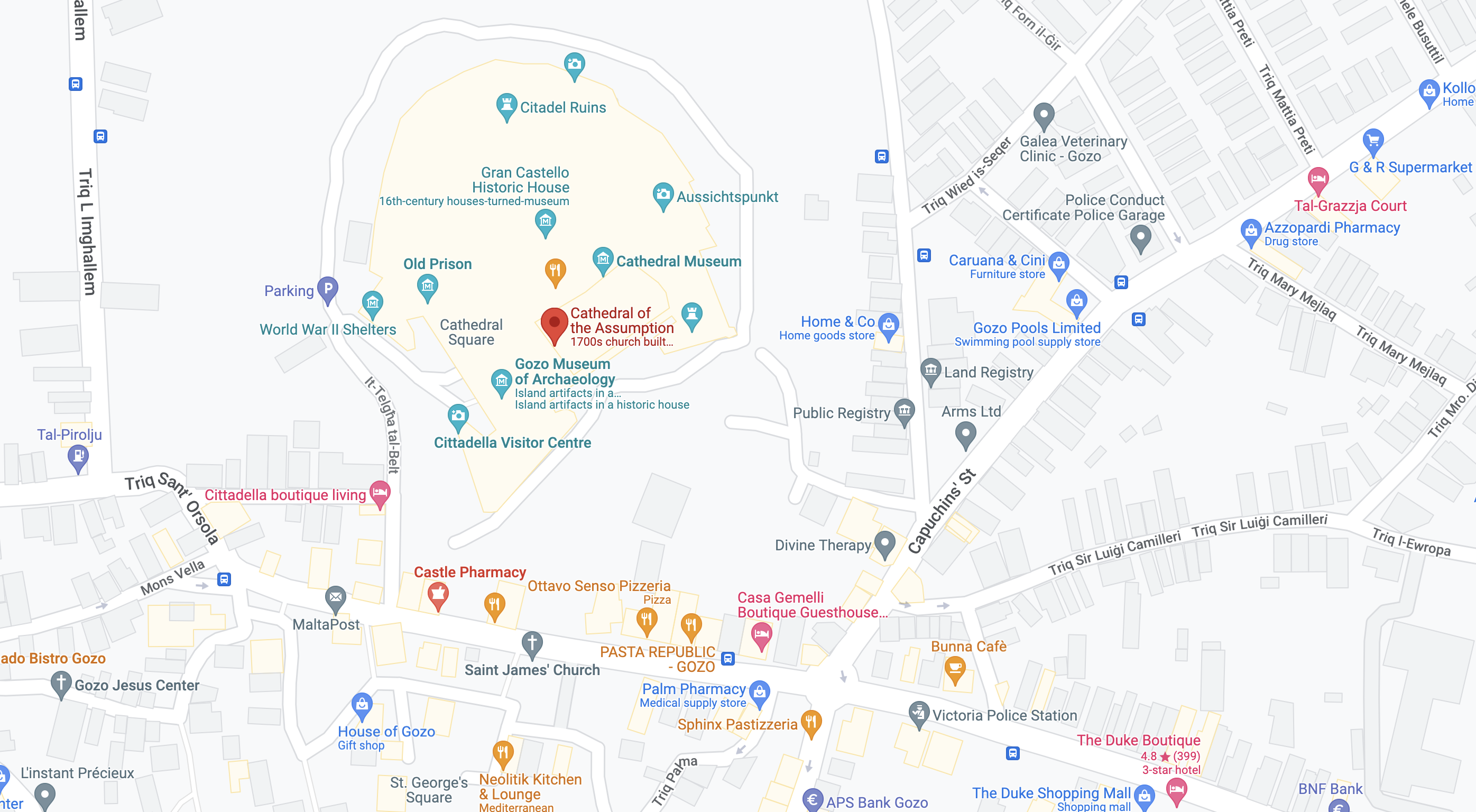 An important note for the visitor:
The Cathedral is a place of worship, hence one is requested to enter dressed decently. Disposable coverings are
provided at the entrance should you need one.
Kindly refrain as much as possible to wear stiletto heels or narrow heeled shoes to avoid damage to the inlaid
marble flooring.
Photography is allowed, however the use of flash is forbidden in both the Cathedral and Museum.
No food and drinks are allowed in the Cathedral or Museum.
Due to certain celebrations such as weddings, funerals or special occasions, one may be denied entry to the
Cathedral. Kindly follow any notification that the management might issue.
Prayer
When a visitor wants to enter the Cathedral for prayer he is invited to approach a member of our staff and he would be guided to the Chapel of the Blessed Sacrament.